Shiver is a white-furred she-cat with silvery eyes.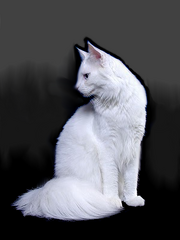 Shiver lives in a mist-filled glade where it can be hard to see, for those who aren't familiar with the area. She left her mate when he proposed that they join one of the Clans, saying that they had chosen life in the glade for their kittens, Soot and Skid, and they had given too much to throw it all away. She takes her kittens to an abandoned old barn, to take care of them there.
Personality
Edit
She's very kind and compassionate, but she can be very aggresive when it comes to battle, especially over something she strongly supports.
Kittens
Soot
Skid
Community content is available under
CC-BY-SA
unless otherwise noted.